Professional SOP Writing
We specialise in helping applicants by
Providing crucial context to your character and skillset
Providing major reasons as to why you should be considered for a particular program
Framing SOP that talks about your career path, interests and professional contributions
Upload your details and Get Up To 40% Off on your SOP
Letter of Recommendation (LOR)
Our writers will work with you to create A letter of Recommendation (LOR) – which is one of the documents required when applying for universities or scholarships overseas.
Statement of Purpose (SOP)
We will help you frame A Statement of Purpose (SOP) or a letter of Intent. This talks about your career path, interests, professional contributions, goals, and the major reasons as to why you should be considered for a particular program.
CV Writing Services
We will help you position your professional summary, showcase your achievements, and most importantly your strengths & competencies in the form of keywords to increase your chances of getting noticed.
Job Site Profile Updation
We will update your profile, and cv in a job portal of your choice, and increase the chances of your profile to be on top of the search engine.
LinkedIn Profile Updation
We will update your LinkedIn profile along with relevant keywords, and your professional experience, to increase your chances to get noticed.
Why do you need to have a


professional SOP?
For validation of your resume for both Professional and Academic experience
SOP with the right content and the right skills make a HUGE IMPACT
To give the genuine third-person opinion to the candidature
Your SOP is your Marketing Tool
The panel first see the SOP & not you
Upload your details &
Get Up To 40% Off
on your professional SOP
Getting an Interview Call Starts with 
Creating a Professional SOP
Step 01
Get Matched with an Expert
SOP Writer
Step 02
Call By SOP Expert to start working on your SOP
Step 03
Get your Perfect Job Winning
SOP
Step 04
Maximize the chances of Getting Jobs/university Placements
Thank you so much 'MyBigBreak' team for making a great resume. Ms. Shaon De from your team not only helped me out with my resume of 15 years but also was very patience to listen and act upon requirements from my end. The resume she clearly understood has to be made and explained that it has to be competency based resume which looks very professional and to the point. Ms. Srilatha created my LinkedIn profile and made sure that it is very crisp and clear. The LinkedIn profile looks very professional and catchy. Thank you team once again for the great support.
shyam prasad bidadi raja rao
2023-06-28
Excellent job in preparing my resume. Work looks very professional. All the data about my career has been said without omitting any points and made very concise. Thanks once again 🙏
Basheer Mohammed
2023-06-27
My big break is a very professional team, and well done. Especially Ms. Nirajana has a very helpful attitude, which is remarkable and appreciated.
Very professional
Kusuma Venkatesh
2023-06-24
Abnisha was the writter who helped me with my CV content making. She was very professional to have set up call and understand my 10+ years of experience. Also very patient post first draft to understand any corrections i needed. Thank you MyBigBreak team and Abnisha for a great association.
I have used their services multiple times and seeked their help with updating a few cvs. The work is professional and excellent. The CVs are of high standard and sound genuine without overdoing it, where it looks fake. . It was also well presented. This is a great contrast to work I have seen from other CV writing services ( theirs looked over embellished and fake and the presentation was an eyesore.
Thanks to "MyBigBreak" for the excellent service and for writing the CV as per my requirements and for providing multiple options for resume formats to choose. Even the cover letter is perfect and well explains my experiences and also for updating my LinkedIn profile. Thanks to Niranjana for being so patience and the Team for the kind support.
I requested a complete transformation of my cv since I changed career from education to coaching. I'm pleased to say that I was very happy with my new cv. I totally recommend working with them. Thank you.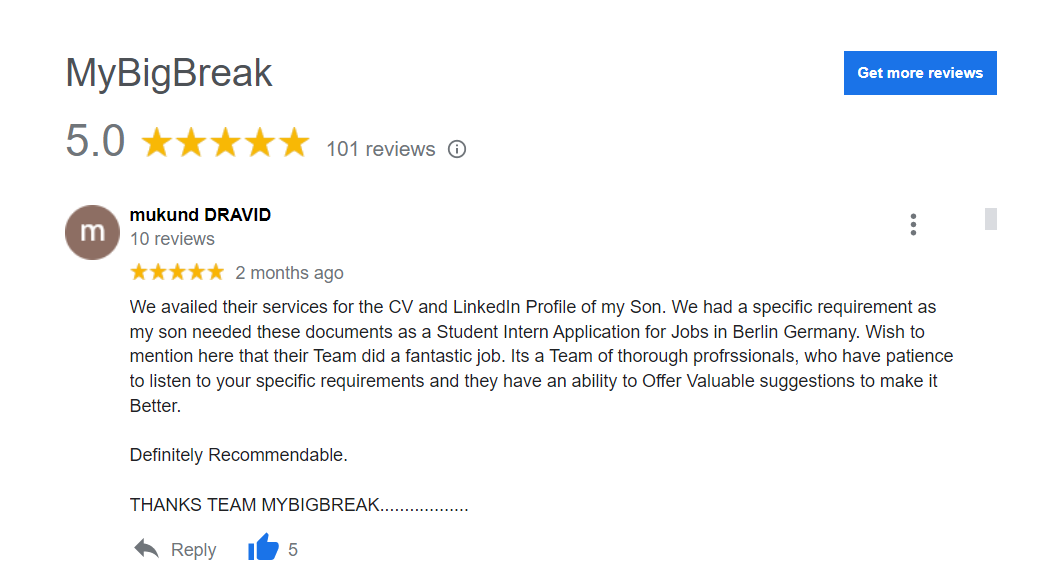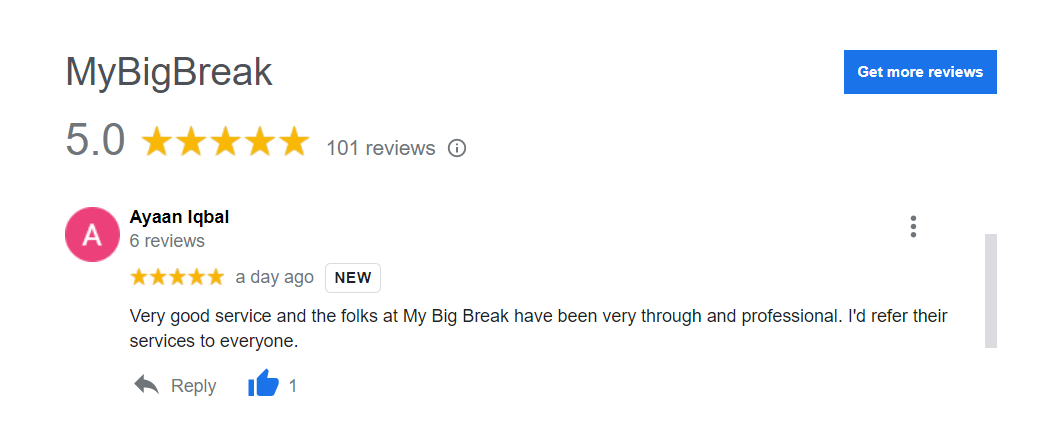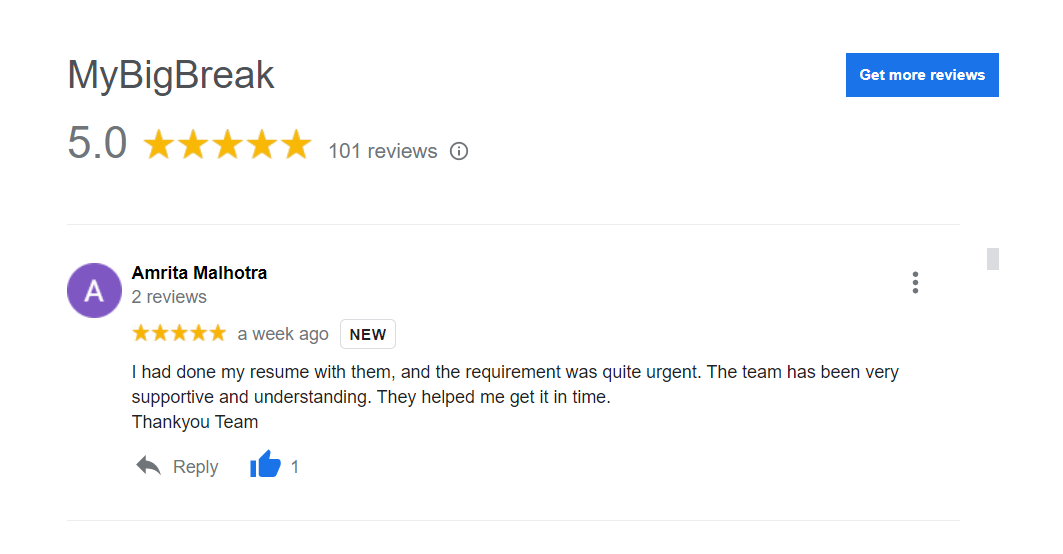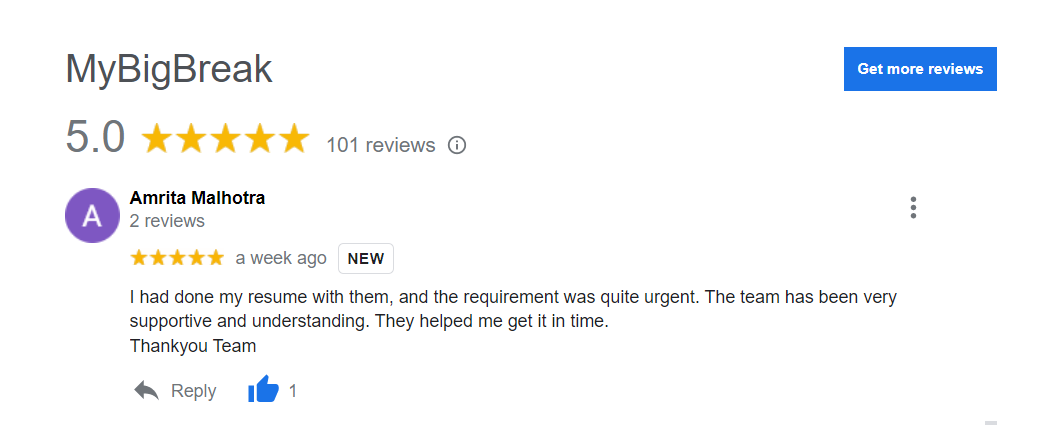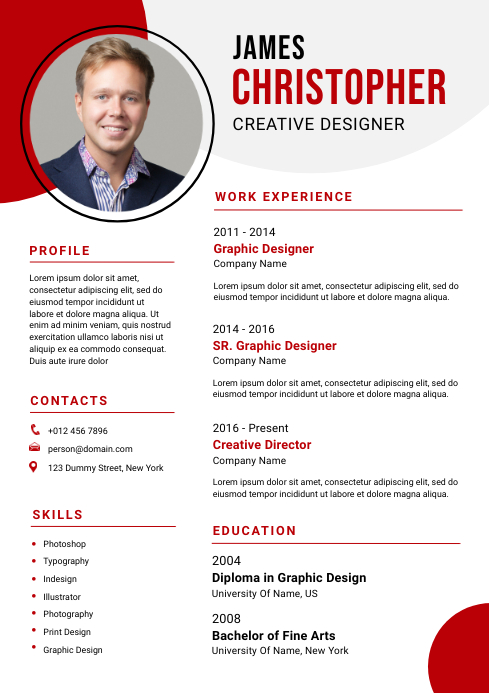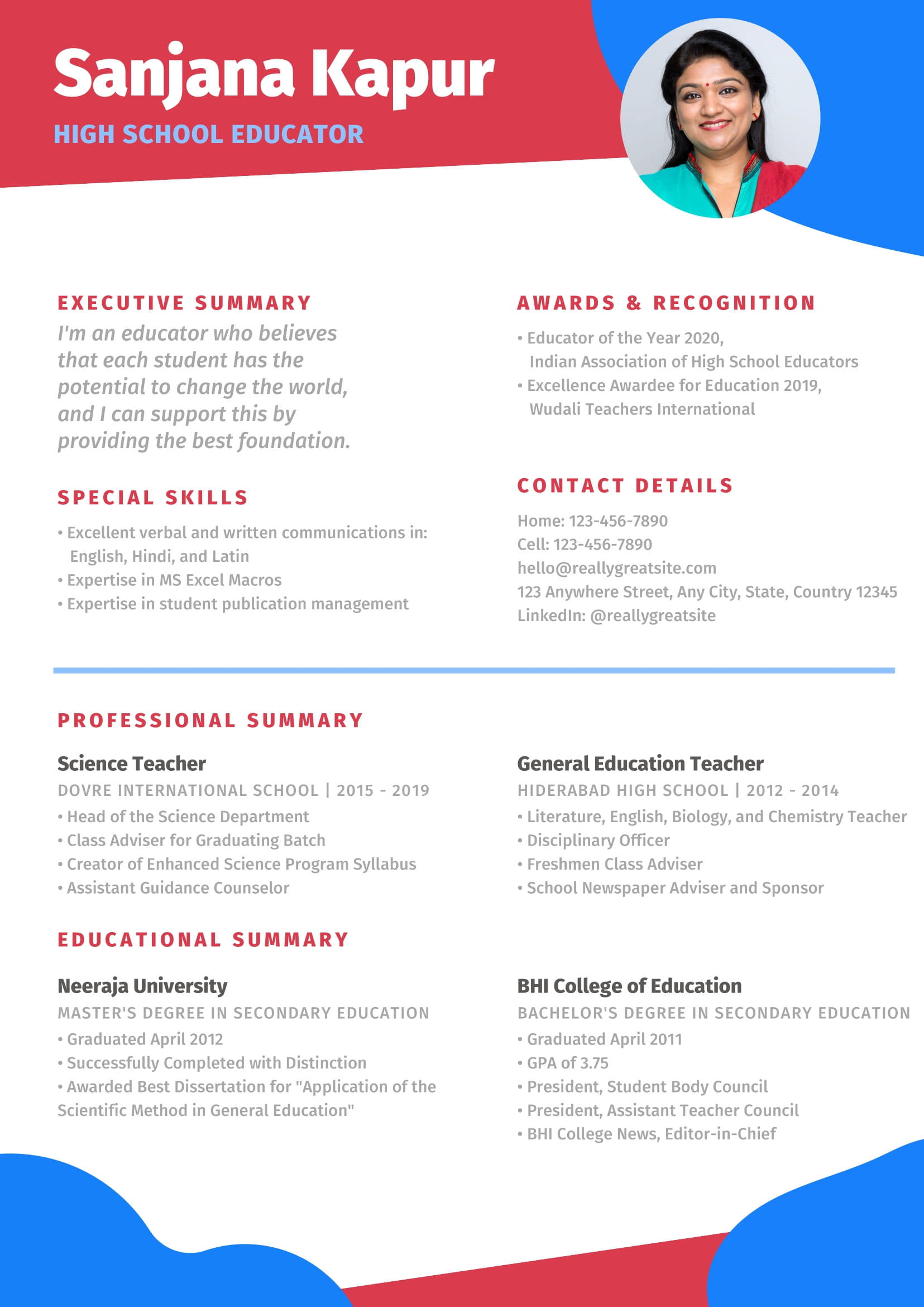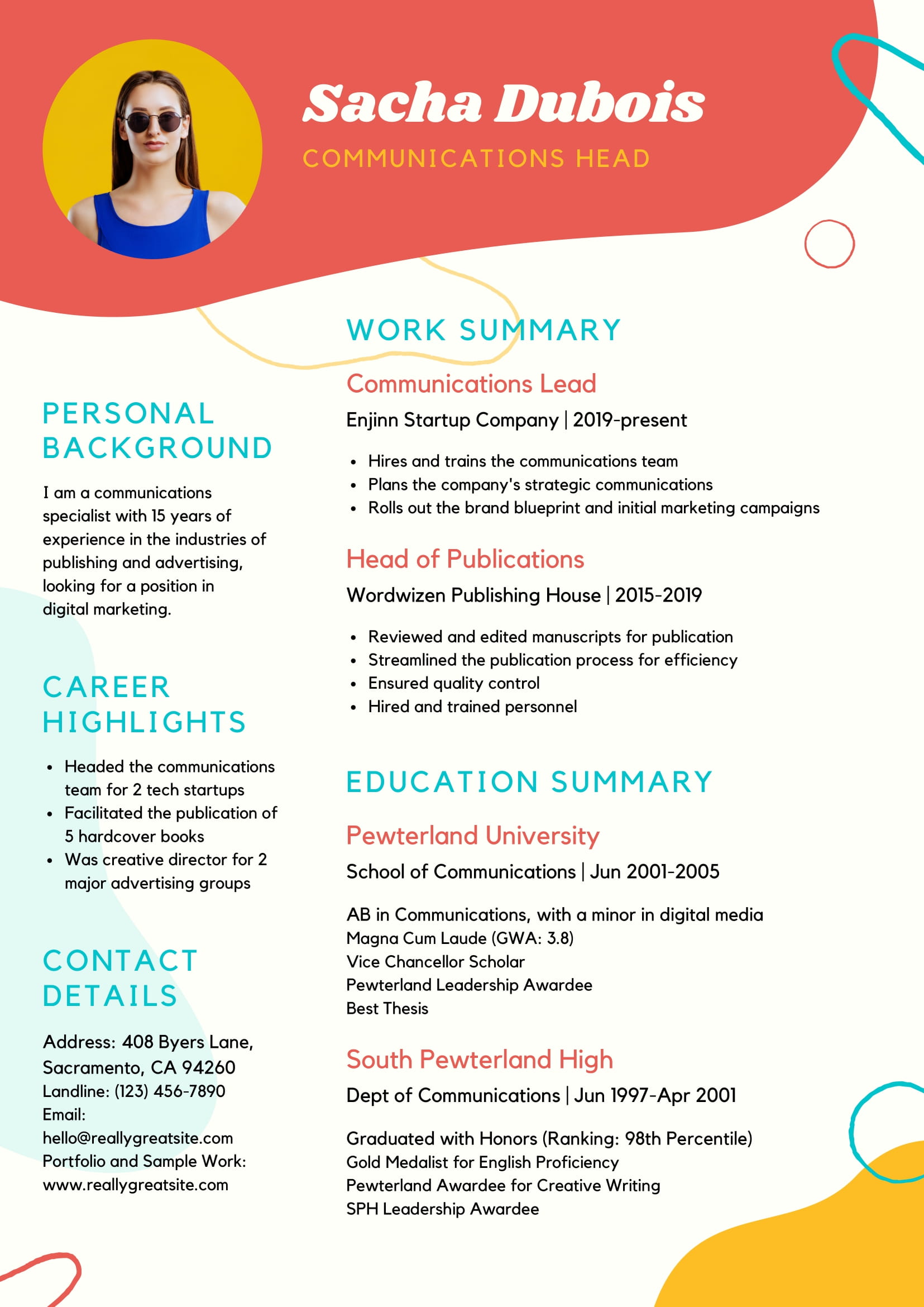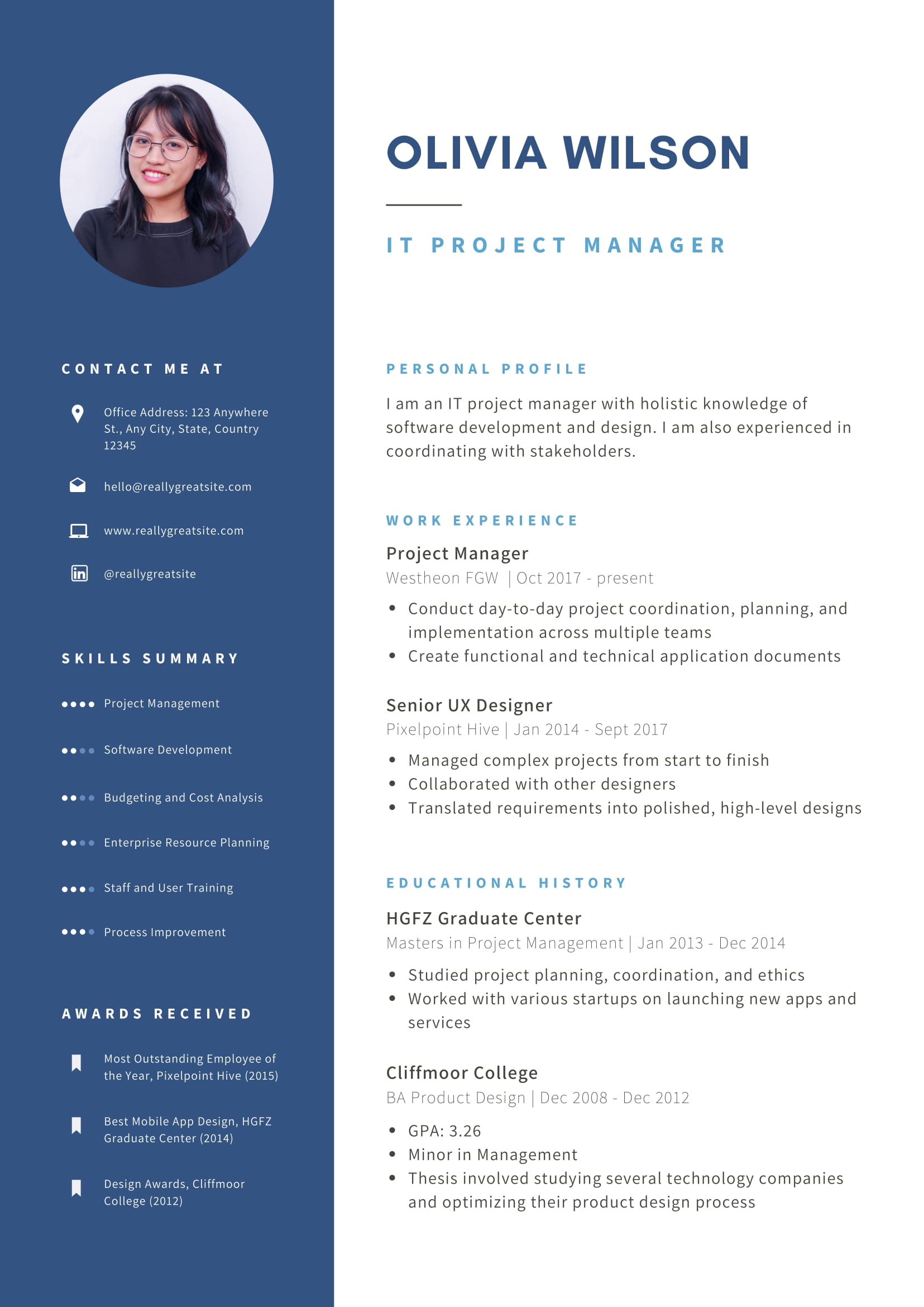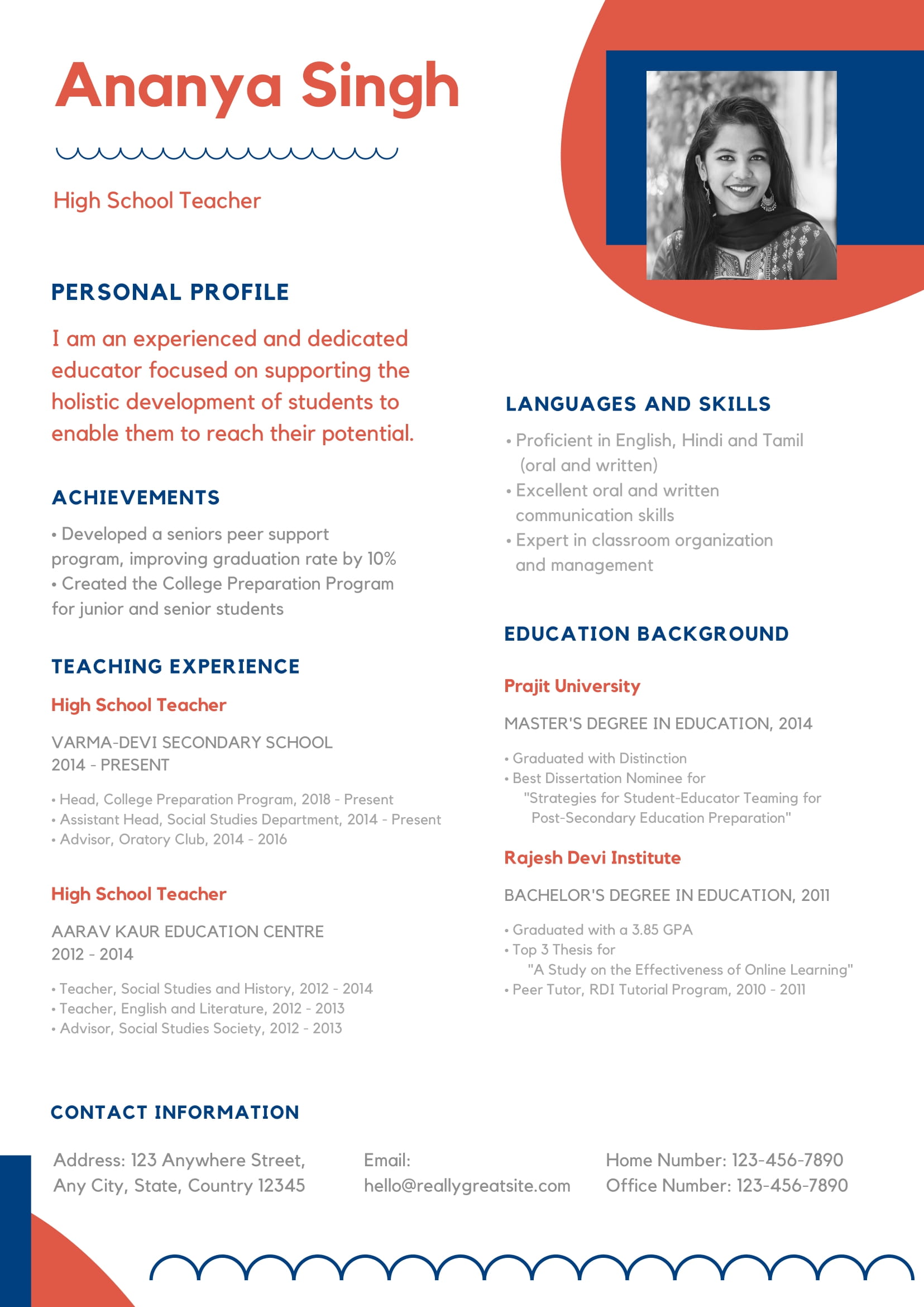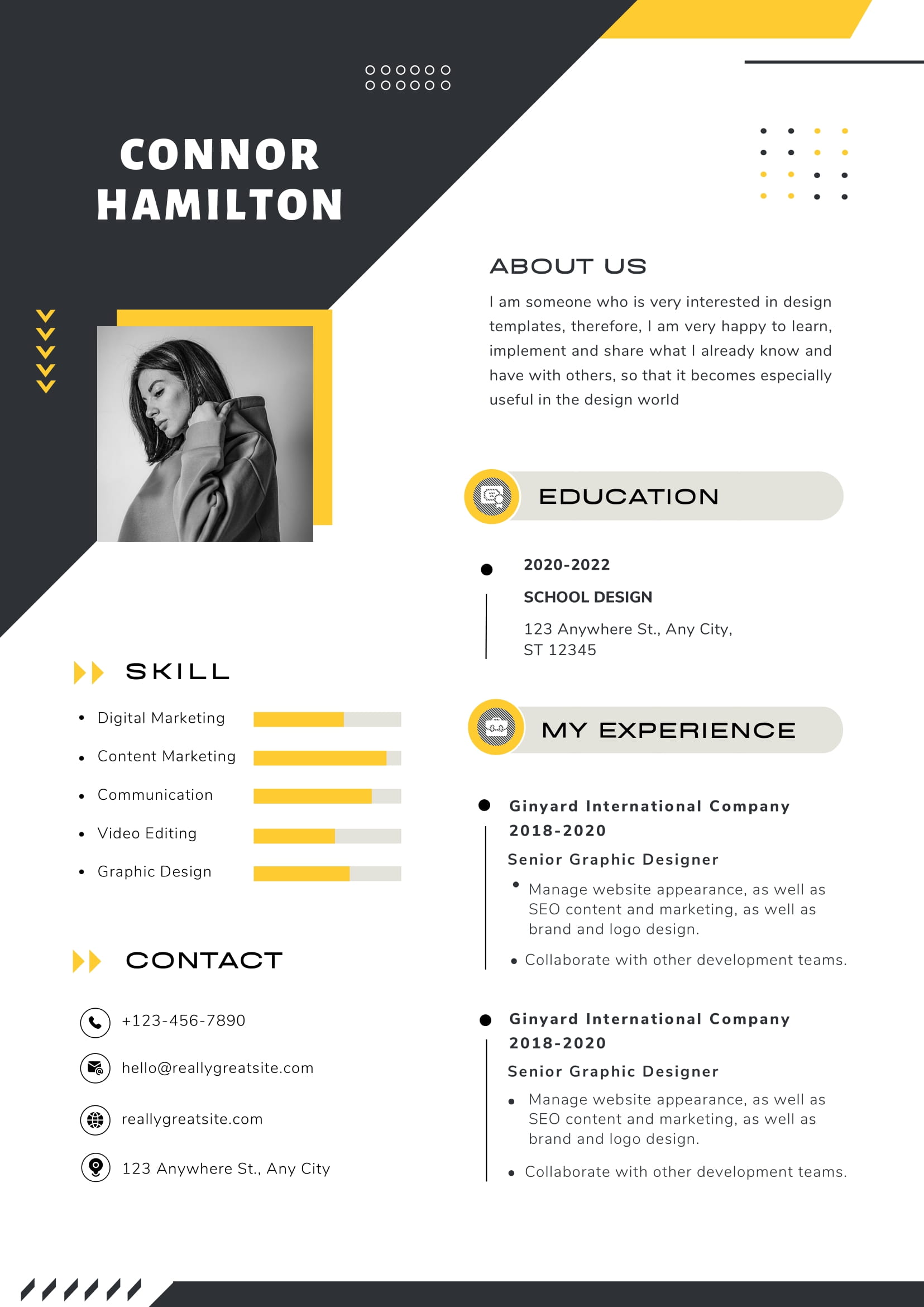 Get Your Professional SOP Done at 40% Off

Contact Us!
FREQUENTLY ASKED QUESTIONS
What is My Big Break?
My Big Break is a global career platform providing the best possible support to individuals who want to grow professionally and have a successful career.
Our mission is to impart world class mentoring & coaching to professionals who want to be successful in their interviews.
Can you tell more about My Big Break CV Writers?
Resume writers at My Big Break have experience across industries and We connect you with a cv writing expert who would suit best for your industry and experience.
Our cv writers are qualified in showcasing your achievements by using the same terminology, that hiring managers look for, in your field. This means that important keywords, along with your skills and achievements, will stand out to hiring managers and satisfy all electronic screening tools.
Will I get a chance to have a discussion with your cv writers?
Yes, definitely. Our resume writing process is a team work between you and our cv writer. Our writer will use your old cv as a primary source of information you can talk to our cv writers once you make a payment on the My Big Break platform and give your cv for rewriting. You will be able to view drafts of your cv, and communicate with our writer to suggest changes.
Our writer will collaborate with you to create your job winning cv, specific to your industry. Once our writer reviews all of your information, they will send you the first draft for you to review. You can suggest edits, ask our writer to elaborate on certain points, if any. We give you the control, to get the best cv. In total the process typically takes typically 6 working days to get your perfect cv.
How long does it take to complete the cv writing?
Typically, it takes 6 working days to complete a resume writing depending on your availability to have discussions with our resume writers. The changes also impact the time taken, depending on the number of changes we need to make.
What happens if I do not enjoy the service? Can I get a refund?
We're happy to report that these problems arise on less than 3% of all sessions, as evidenced by our customer satisfaction index of more than 98%. Nevertheless, our best in-class customer service team is committed to resolve any issues that come your way. Just contact service@mybigbreak.in if you have any problems.
Is my payment secure?
Yes, we use Instamojo & Razor pay which are credible payment gateways to ensure our users can make secured and safe payments.
Do your prices change?
Yes, our prices are subject to change without notice but once you pay for the chosen service then the revised price will not apply for you
How do I get started?
If you're ready to have us professionally write your resumes, you can find more information on our resume packages here.
Any more questions?
Simply send an email to service@mybigbreak.in and our service team will get back to you right away.
What does My Big Break do?
We offer CV writing services and expert Interview Coaching, that helps you stand out in today's crowded job market. Our team of experts will re-write your CV's which will help you more interview calls. We also provide one-on-one interview coaching services. This includes personalised attention on a video platform from Senior & Experienced experts of more than 15 years of corporate experience  who will prepare you to crack Interviews and guide you through.
We also offer online assessment tests for you to review your own communication skills, ability to understand and reduce conflict, personality traits, work style, strengths and development areas and a greater understanding of yourself
What qualifications do My Big Break CV Writers/Coaches have?
We have a network of  professionals, career coaches, former and current Leaders with us who have corporate experience for more than 15 years. This ensures we can match each candidate with an expert who is a strong match for their needs. My Big Break recruits and appoints resume writers / Coaches based upon the value they can bring to our customers.
How does the cv writing process work?
MY Big Break uses the expert knowledge of our resume writers, combined with feedback from resume scanning software called applicant tracking systems (ATS). ATS filters applicants based on keywords and formatting, and My Big Break analyses your resumes using similar technology. Our expert writers break down this analysis to figure out how to make your resumes more effective and attractive
I have not created any cv till now? How do we go about it then?
If you don't have a resume, our writer will send you a brief questionnaire that will provide all the information that we need to get started. Once this has been provided, your new resumes will be delivered to you for you to review and make changes, if any
What if I am not satisfied with my cv?
Once a session is completed, we strongly recommend you to express any questions, concerns or comments to us on service@mybigbreak.in. In nearly all cases, we will be able to help you find a resolution, as long as you communicate with us.
What is your refund policy?
All sales are final, but we would be open to multiple drafts and revisions to ensure your satisfaction.We will work with you until you are satisfied with our services. 
Are there any recurring charges?
No, you just pay once which gives you full access for the duration of the services you choose. There are no recurring charges.
Is my personal information safe?
Yes, of course. All our candidate communications are purely confidential.